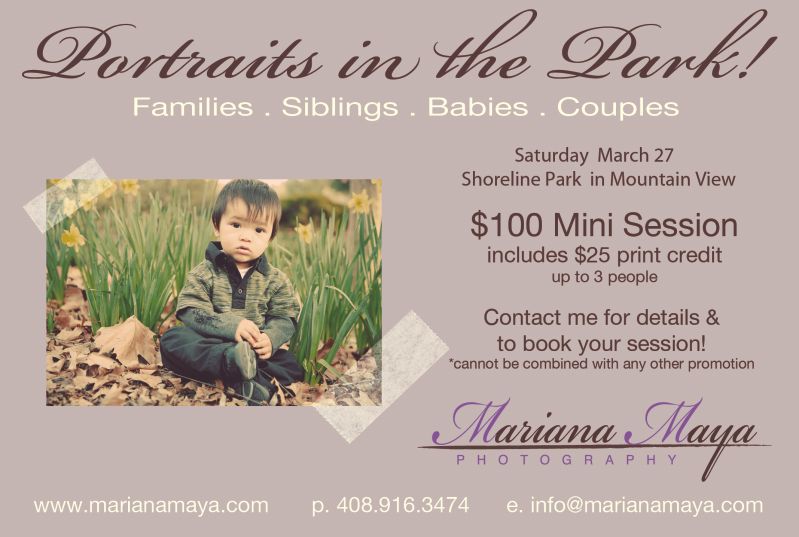 Hello everyone! The weather has been gorgeous lately and I for one am HAPPY!
To kick off the Spring season I am offering for the very first time a very special promotion. I will be holding mini-portraits sessions on Saturday March 28th at Shoreline Park in Mountain View. These very special sessions will last 30 minutes and include a $25 print credit for only $100.00
Who's eligible? Anyone.. Families, siblings, babies, couples. mothers & daughters, fathers & sons.. ..anyone except our furry four legged friends. The park does not allow pets. Sorry.
I am only offering 5 thirty minute sessions. Below you will find the list of available times (as they fill up I will update). If you are interested you must email me at info@marianamaya.com and let me know. I will then call you back to chat about your session in detail. I ask that you be on time for your session and come ready to shoot. These sessions will be very fast paced!!
2:45pm- booked
3:30pm- booked
4:15pm- booked
5:00pm- booked
5:45pm- booked
If it rains .. the alternate date is April 4th. same time slots.
the fine print:
-Each session is for up to 3 people. Unfortunately, anymore will take more time. If you are interested in a session with more people contact me for a private portrait session.
-This offer cannot be combined with any other offer.
– $50 non refundable deposit is due at time of booking to guarantee your time slot. This amount go towards your session. The remainder is due in full on the day of your session.
-Your proofs will be up within one week in a password protected gallery.